Droughts are one of the most expensive and damaging hydrologic hazards in the United States. They are generally slow in developing, frequently occur over a long period of time, and can affect large areas and populations. 
The U.S. Geological Survey New England Water Science Center's long-term continuous monitoring network of surface water and groundwater stations provide data to define drought severity. The New England Water Science Center continuously monitors the status of New England's principal rivers, reservoirs, and aquifers to compare current hydrologic conditions with normal and extreme recorded values. 
Current Drought Conditions in the Northeastern United States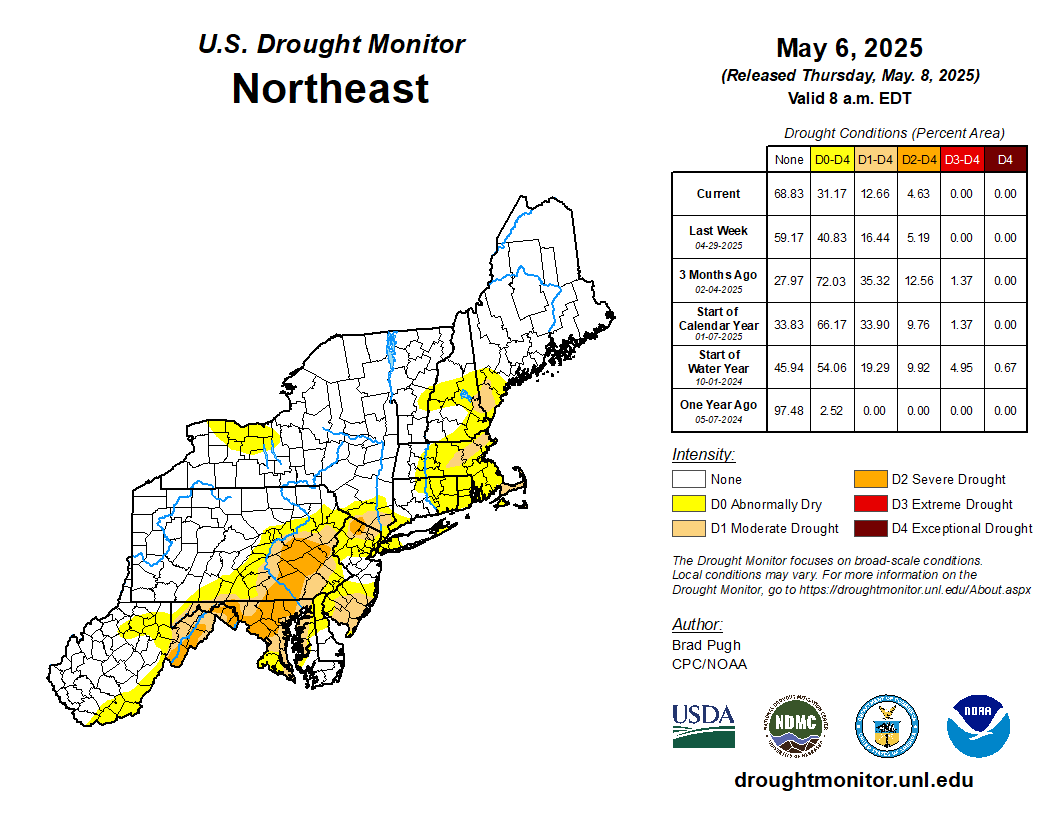 USGS Drought Information
Streamflow 
USGS New England WaterWatch streamflow maps showing: 
USGS WaterWatch State Dashboard – real-time streamflow conditions
Groundwater
Groundwater Levels in New England
National Water Dashboard for New England – real-time groundwater levels 
* USGS real-time data used to produce these maps are provisional and subject to revision until they are thoroughly reviewed and receive final approval. 
Monthly Hydrologic Conditions in New England (Current Conditions)  
Drought Forecasting: Streamflow and Groundwater Probabilities 
Other Drought Related Maps and Information
New England State Drought Information 
Historical Droughts in New England
Below are other science projects associated with this project.
Below average and infrequent rainfall from May through September 2020 led to an extreme hydrologic drought across much of New England, with some areas experiencing a flash (quick-onset) drought.
The USGS and the Centers for Disease Control and Prevention are examining the potential effects of droughts on the arsenic hazard in private well water across the Nation.
Below are data or web applications associated with this project.
Below Normal 28-day average streamflow compared to historical streamflow for the day of year
Maximum likelihood logistic regression (MLLR) is used to estimate drought probabilities for selected Northeast rivers and streams. Winter streamflows are used to estimate the chance of hydrologic drought during summer months. This application allows the display and query of these drought streamflow probabilities for Northeastern streams.
Below are publications associated with this project.
Below are data or web applications associated with this project.
View recent monthly and daily groundwater levels in New England relative to long-term monthly statistics.
The USGS WaterWatch Toolkit provides online tools that allow users to search USGS sites in various ways; create a variety of maps, graphs, charts, animations, and tables; perform a variety of streamflow analyses, and retrieve summary statistics.
Below are software products associated with this project.
The HyDroDSS is designed to provide water managers with risk-based information for balancing water-supply needs and aquatic-habitat protection goals to mitigate potential effects of hydrologic drought.
Below are FAQ associated with this project.